Invitation for the Design Workshop
                    Design in Art Workshop by Dr. Donna Finch Adams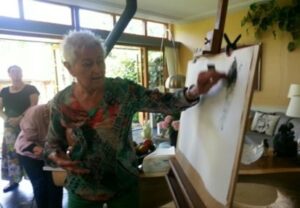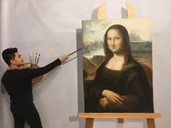 When and time:          Saturday,   13 July 2019    10:30 a.m. till  12:45 p.m., 
Venue:                          Molenlaan 40, 3055 EL Rotterdam  or  Lidiunahuis, Burg.de Villenevesingel 1,  
Level:                           Beginners and advanced
Materials :                   pencils, drawing pads, erasers, sharpener
We are once more, grateful to Dr.Donna Finch for offering this workshop for SPOSA CHILD.  Many of us admire her knowledge and enthusiasm for art and her willingness to share these to many of us.
What is the subject of the workshop?      
DESIGN
To quote Dr.Donna Finch Adams,
Design  is the single most important course for those interested in making successful compositions and understanding why a piece of art becomes a masterpiece.
We will learn the selection and arrangement of the formal elements in a work of art;
line, shape, value, texture, colour and a sense of space, time and motion. These hold true in realistic, abstract and non-objective art. Under each of the above are the PRINCIPLES of design: unity, variety, balance, emphasis, directional guides, contrast, repetition, rhythm, scale, proportion, symmetry, asymmetry….etc.
About Dr.Donna Finch Adams http://dfaartgallery.com
For over forty years Dr Donna Finch Adams has studied, taught, and created all types of art in all mediums. She earned a Bachelor of Fine Art degree from the University of Texas at Arlington. She received a Master's of Fine Art degree from Sam Houston University in 1974, and a Doctorate in Higher Education from the University of North Texas in 1983. During the past twenty years, she has served as an Adjunct Faculty member in a variety of colleges and universities throughout the Dallas and Fort Worth, Texas areas. Ten years ago she joined the staff at Southeastern Oklahoma State University. Many of her students have gone on to become professional artists, crediting her as central to their success. She is guest lecturer at various colleges and universities about Colour Theory as well as other topics on art. Dr Donna Finch Adams' Lecture topics include:
Colour Theory
Drawing
Design
Painting Techniques
Art Critiques
Donation for the workshop including lunch, coffee, tea, lemonade: 
€ 35 per person (minimum   (extra donations will be highly appreciated J)
The funds raised will go into buying school shoes for about 55 students at the Holy Family Home in Bacolod City for this schoolyear.  These shoes costs around € 15 a pair, good enough to withstand the muddy streets during the rainy season ( about 4 months a year).
An impression