June 15: Koemba Film shown at the Pathe Rotterdam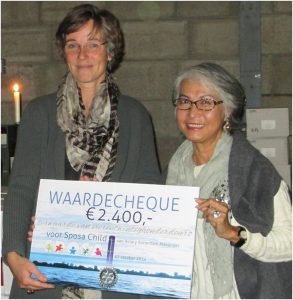 The Rotary Club Alexander organized a film screening in Pathé Schouwburgplein. The proceeds benefited among others SPOSA child. The movie Koemba (for children 6+ yrs old) tells the story of young zebra Koemba who misses some stripes on his hide. To be no longer an outsider in his flock he decides to rescue his flock from the the sudden drought in the valley to earn his stripes.
All proceeds from ticket sales went to:
• SPOSA, education for children in the Philippines
• Emma at Work, helps young people with a chronic illness or disabilities of work experience
Left pic: Marie-Louise Oosterloo of Rotary Club Rotterdam Alexander (RCRA) hands over a check of € 2.400,- to Marilyn Tinsay of SPOSA Child.
June 14 – 15: Hidden Gardens, Rotterdam
The city of Rotterdam showed around 90 "Hidden Gardens" in the weekend of 14th – 15th of June. One of the participants, Mr. and Mrs. Marianne Hoffman, opened their lovely garden and offered SPOSA CHILD a stand/table where coffee, tea, lemonades, sandwiches, cakes and cookies were sold to raise money to buy school shoes for the girls in the orphanage of the Holy Family Home Foundation in Bacolod City in the Philippines. The Holy Family Home has around 53 girls under their care. These girls need better school shoes that could withstand the heavy rainfall that flood the streets during the rainy season from June till October every year.
With the help of several compassionate friends who worked in selling and baking cookies and donating books etc. SPOSA CHILD was able to raise €405,-. This amounted to 48 pairs of shoes.
SPOSA CHILD thanks these friends and supporters for their hard work and compassion.